Carmelized Onions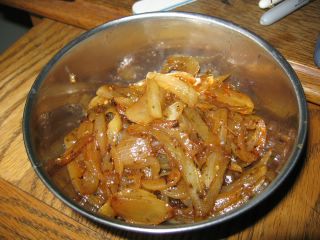 Carmelized Onions

Mmmmm, can you smell them? They smell so good and nothing like a strong raw onion. I wanted to prepare a healthy dip for the aquafit ladies. I cut up two vidalia onions and sauted them in some evoo and butter. I added a healthy sprinkle of my favorite spice blend, Garlic plus. They cooked for about 15 min and I moved them to this cute small bowl for a rest.
I combined them with half a bar of light cream cheese, some light mayo and sourcream and 7 subdried tomatoes. I whizzed this all up and refridgerated overnight so the flavors could blend. I cut up a whack of raw veggies and loaded up the cooler. But alas, it wasnt to be as it was pouring down rain in Exeter.
Off to check the weather to see if I can bring it on Thursday night.